Fort Worth says it can be tech hub with $70 million tax incentive to this motor company
June 6, 2020 •Brad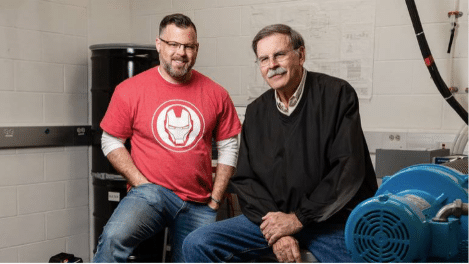 By Luke Ranker
FORT WORTH
A Fort Worth company that believes it can revolutionize the electric motor industry while putting the city on the map as a tech hub stands to receive a nearly $70 million city grant for research and development.
Linear Labs, started by father-and-son duo Brad and Fred Hunstable, plans to aggressively ramp up from about 100 employees to 3,000 by 2030 and is looking for a 100,000-square foot factory space likely in the AllianceTexas mobility innovation zone. The company runs a 11,000-square foot lab space in Fort Worth with production in Mexico.
Linear Labs is focused on developing cheaper, more powerful electric motors — the kind that can make scooters and e-bikes more affordable, but can also power them up steep hills or allow them to last longer on the road.
The company would like to start filling orders soon, Robert Sturns, the city's economic development director, said.
"This new technology has the potential to, I hate to say 'disrupt the market' but that's exactly what it could do," Sturns said. "This is really one of those things that allows us to put Fort Worth out there as a player."
To help cover the cost of developing a high-tech electric motor factory in Fort Worth, the company and city have negotiated an incentive deal that could net Linear Labs $68.9 million over a 15-year period.
For its part, Linear Labs must invest $614 million in research and development, which city employees will verify, Sturns said, over 10 years. Linear Labs plans to hire 1,200 full-time employees within eight years. The average salary will be about $75,000, but many employees will make more, he said. The company must also invest $4 million into the facility it leases.
Sturns said the company is looking at the American Airlines maintenance facility at Interstate 35 and Heritage Trace Parkway, but other locations are under consideration.
The deal requires council approval.
"We would be making a strategic mistake if we did not endorse this and embrace this project and technology," said Councilman Dennis Shingleton.
During a City Council briefing, Shingleton said he wasn't sure he fully understood the "idiosyncrasies" of the proposal. It wasn't immediately clear if he was referring to the incentive package or Linear Labs' new technology. Both are slightly complicated.
In its simplest description, the company's motor design is able to achieve high torque and energy production even at very low engine speeds. Hunstable boasted to the Star-Telegram in February it is "the biggest discovery in electric motors in 100 years."
The new class of electric motors is capable of more than two times the torque and two times the output of the traditional magnet motors. The company said this tech will lead to a 10% range increase for electric vehicles, more efficient HVAC units and lighter and more powerful wind turbines.
Traditional electric motor production requires low-skill jobs, but Hunstable bluntly said that's not what the company is interested in. Instead it will be hiring electrical and robotic engineers, software designers and technicians trained to work alongside robots on the factory floor. The average wage is expected to be above $90,000, Hunstable said.
"Fort Worth is in a unique position to be the center piece globally of new electrification," Hunstable said in February. "I want to build the next Siemens or GE right here in Fort Worth."
The incentive agreement is also tricky.
Instead of basing Linear Labs' grant on investment in property, like a normal tax break, the company will receive grants reimbursing them for the cost of investing in research and development.
Linear Labs could also sell the tax credit to a third party. That company would have to invest nearly $2 billion into new taxable property in order to qualify, Sturns said.
Fort Worth may be the first city in the country to use such a tool, Sturns said.
Mayor Betsy Price said the novel incentive could be used to attract other companies that are looking to leave areas hard-hit by the coronavirus or re-shore factories.
"We will have more of these creative, innovative financing packages to attract the level of businesses we'll need to restore the level of jobs we've lost," Price said.